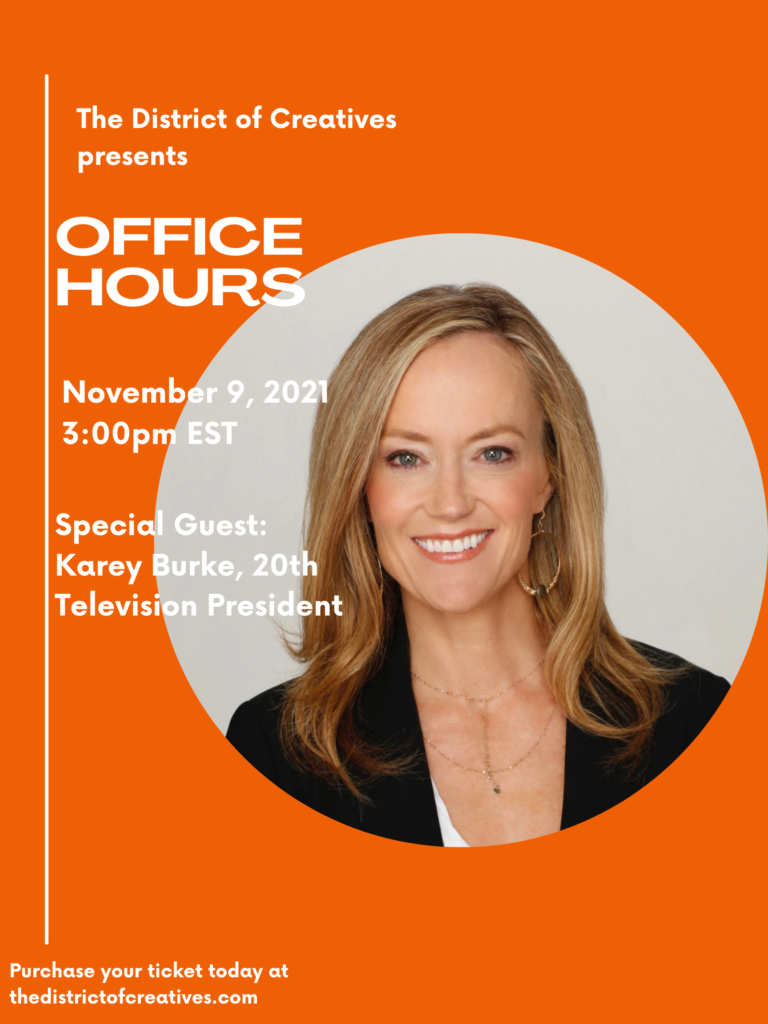 It's time to shake things up with your online learning. Spice up your Tuesdays with The District of Creatives's newly launched "Office Hours." "Office Hours" is a limited series of pre-recorded and live virtual events that provide continuing education programming and networking opportunities for curious creatives. All "Office Hours" events are free of charge. Here's a look at our next event:
TUESDAY, NOVEMBER 9, 2021 – A Conversation with Karey Burke, 20th Television President (LIVE 3:00 pm EST)
Join us for our first LIVE Office Hours virtual event series with Karey Burke. Karey Burke is president of 20th Television, the powerhouse studio behind, "This Is Us," American Horror Story," "9-1-1" and its spinoff "9-1-1:Lonestar," the Genius" and "American Crime Story" anthologies, "Ratched," and this year's biggest broadcast hit, ABC's "Big Sky."
Burke previously served as president of ABC Entertainment from December 2018 through November 2020, where she developed some of the most critically acclaimed and widely viewed live television events, including two Emmy Award-winning "Live in Front of a Studio Audience" specials, as well as, "The Wonderful World of Disney presents "The Little Mermaid Live!" – which premiered as the most-watched live TV musical in four years.
Special Note: Registration is required for the LIVE virtual event with Karey Burke, 20th Television President. Please visit our SHOP or www.creativeeventsdc.com to register. Registration closes on November 8, 2021.